In light of Burna Boy's upcoming 6th studio album, 'Love, Damini' which is set to be released on the 8th of July, we're bringing to you a list of Burna Boy's most underrated songs – our rating (meaning without apologies)!
Deja Vu 
'Deja Vu' was arguably one of the best things to happen to Africa in 2017. It did not get the number of flowers it deserved, but remains a true party tune. Something special about the record is how futuristic it sounded at that time, but it still didn't get enough recognition.
Boshe Nlo
Patwa, baked with African words and a Caribbean beat was Burna's thing in 2016 and it was very prominent in his 'Redemption' EP. Hearing that Burna Boy signature patois as the intro just sends chills down your spine. It's a sign to throw shoes away and dance like you don't own your legs.
Fa so LaTi Do
With its comic undertones, we really need to know why this song wasn't played by every existing DJ in 2016. It was the perfect blend of a bop, humour and Yoruba demon energy.
Jahs Love Is True ft Wizkid
As their first collaboration, 'Jahs Love Is True' was released on the 12th of August in 2013 and with this song, you can probably understand the extent of the duo's artistic friendship. Asides 'Ballon D'or' and 'Ginger', this song is a collaboration that did not receive enough merit from the 'L.I.F.E' album.
Calm Down
Beyond the "wanna-be gangster" apparel that Damini sometimes wears is a beautiful, sweet and soft songwriter. This is evident in 'Calm Down' off 2018's 'Outside'. Burna was serving vocals and harmonies. Produced by UK's legendary Jae5, we'd give anything to get visuals for this masterpiece.
If we could extend this list to 7, then songs like 'Heaven's Gate' and 'Different' would definitely make the list, but we all need to agree that when it comes to Afro-fusion music, Burnaboy is the king of versatility. And at this point, the term 'African Giant' is no longer self-acclaimed because the Grammy award winner is without any doubt, Africa's own giant. At least, as regards his music. DigiMillennials has a greater duty of documenting the art, even beyond the artist and his "doings". If you know, then you are knowledgeable.
Our expectations for 'Love, Damini' is at its peak and with 'Kilometer' and 'Last Last' we are sure the 'Ye' crooner will not disappoint.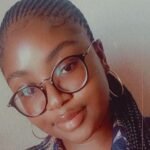 Grace's favourite thing to do is finding new music and writing about it. As a house mouse, the only fun thing you'd find grace doing is watching a new tv show or bingeing anime.