Giveon dropped a body of work that in his words is the "utmost and genuine truth". And if you listen carefully, in our opinion, this album will harvest your true emotions. Different people react to music differently and this is a compilation of the different possible reactions listeners would most likely have to the album.
We have the ones that will use 'Let Me Go' to carry their shoulders because they're the "prize". It's just a song, please stay humble.
Those who belong to the streets
The toxic kings and queens! Eyan Future ati Jada Pinkett will now decide to turn 'Scarred', 'This Will Do' and 'Lost Me' into their national anthem. The streets are cold and filled with wicked people! You should stay away from love.
We have told you to catch flights and not feelings so many times, but you people don't listen. Now, catch your sub. The hopeless romantics with no self control, that fall in love in 5 seconds will definitely relate to 'Dec 11th'. Love at first sight is not real. Wake up dear!
The "weather for two" people looking for new songs to add to that playlist. Remember the Lord is watching you. Add 'Get To You' to that your ungodly list sha.
The ones that are already texting their ex without even thinking because of 'Make You Mine' and 'For Tonight'. Now, now, you have forgotten the breakfast that they served you. It's not a good idea sweetie, drop that phone.
These are the hard guys that will rethink their decision to stay single after listening to 'July 16th'. Chai!! Giveon eh.
Those served by agba cookers
People who just healed from a freshly served breakfast will definitely scream the chorus of 'Another Heartbreak' because it takes a strong one to do it again. this album will injure you so listen with caution abeg. 'Lie Again' will have you shedding tears you didn't know you had.
If we listened to Brick and Lace when they said 'Love Is Wicked', all these issues wouldn't be so serious. Thanks to Giveon, we can finally put our emotions into words instead of crying anyhow.
Listen to "Give or Take" here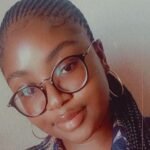 Grace's favourite thing to do is finding new music and writing about it. As a house mouse, the only fun thing you'd find grace doing is watching a new tv show or bingeing anime.