Dear Online Voter,
Hope you had a nice time hustling for fuel because I didn't! After standing for hours in what looked like an unending queue and sweating profusely from exhaustion, I went home unable to purchase anything.
Ooh, did I also tell you that regardless of the deadline extension for the phase out of old notes, a large percentage of Nigerians have still not been able to access the new notes, either as a result of unavailability of ATMs or limited number of banks within their vicinity to dispense these notes?
Noooooo, how did I forget that there has been an abysmal supply of electricity and the national body, which is supposed to be in charge of electricity distribution, interestingly uses generators in their offices. 
You know, it's bad enough for an oil producing country to suffer like this, but even worse is the fact that one would have thought the government of the day would, for the sake of the upcoming elections, decide to at least bribe its citizens by making sure they have these amenities or supplies. But guess what? They are so sure Nigerians have "Endurance" as their middle names, so they act however they wish.
In their defense, Nigerians love them and have sworn to vote them in at the next election. In fact, if some citizens had their way, they would pre-order valentine gifts for them as a means of showing their solidarity to the government because in life, there are those who benefit greatly from chaos. Those who want us to continually use worn out hospitals, ply miserable roads and have the worst form of education, so that their bellies and pockets grow.
Dear online voter, the Nigerian presidential elections will be held on the 25th February, 2023. It's no news that everyone past the age of 18 with a permanent voters card has the right to vote for their preferred candidate but before you vote, ask yourself if your preferred candidate has the capacity and growth mindset to preside over the country. Tell yourself that the next time you would have the opportunity to make this decision would be in 2027.
Tell yourself that the N10,000 or N20,000 you would be given at rallies, would dissolve in a month. Resist the urge to feel that your vote would not count because it would. Get your Permanent voters card and make the change you desire. It doesn't end at making tweets!
We would say vote wisely, but we no even trust your wisdom again, sigh.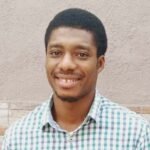 Chukwuebuka Mgbemena is a writer focused on the Nigerian & African entertainment industry. He loves fashion, art and is a staunch chess player.