Conventional gospel music has always been the go-to Christian music for a very long time, until this pack of young, urban creators chose to be different, regardless of initial resistance and cultural restrictions.
Wearing the regular rock-themed rhythms and choral style for such a long time has become what appears to be the norm for the Gospel genre and in truth, creators of such music tend to get more acceptance than any other kind in the scene. This explains why there is a higher chance that you – reading this right now – is probably more familiar with Nathaniel Bassey than you are with Soul Snatcha; both faith-based artists, but the latter having a sound that leans more towards being alternative than mainstream.
However, if you haven't already been officially introduced, this article aims to bring you into the knowledge of Christian Afrobeats music and her acts; a subculture that has over time evolved from Hip Hop songs with faith lyrics, to being popularly called "Afro-gospel".
Although in existence since the early 2010s with the likes of Rooftop MCs, Frank Edward, Henrisoul, Mike Abdul, Gil Joe, Nkay, Nikki Laoye, DaBoomsha, Gaise Baba and a couple others as pioneers, the sound only gained remarkable recognition in 2019, even as its creators like Limoblaze, CalledOut, Folabi Nuel, Marizu, Obareengy et al garnered a larger audience. These names often credit their stray from conventional gospel music to the need to create music that evangelizes through a medium that young people were familiar with and could relate to better.
Afro-gospel has reached a global height in recent years and has provided christians with multiple options for their events, especially weddings as making love songs has been an easier option for these faith-based musicians to gradually break into the mainstream audience. Great examples would be Angeloh's "Love Child" series, Izee Smith's "Ma Rora" and Gaise Baba's "Titilai".
Major mainstream moments for the sound would include the Afrobeats remix of Maverick City's "Jireh" by Limoblaze, Lecrae & Happi Music which later went on to debut at No. 48 on Billboard's US Afrobeats charts. Another would be Limoblaze's collaboration with MAVIN records signee, Johnny Drille on "This Loving".
In the final months of 2022, Spotify curated an official AfroGospel playlist, featuring creators from Nigeria, the United Kingdom, Ghana and the West Indies; introducing the sound to an even larger audience.
In the same year, a rather new face in the game, Anendlessocean, earned himself a record which went on to do incredible numbers and gain popular attention titled "Nazarene", an amapiano song with very a captivating bounce, released right after his debut EP project.
In recent times, Ada Ehi's Rock Fest has done a splendid job at promoting the sound and its creators as its last edition saw Lecrae as the special guest, all the way from the United States.
It's most recent milestone is popular international award winning singer, Jonathan Mcreynolds having an Afrobeats song "All Along" on his "My Truth" album.
The Afro-gospel movement is properly riding on the wave or success attained by the Afro Fusion genre, especially with its appeal to its audience in diaspora. We have seen many songs go across borders and cross cultural features are not left out of the picture too. The subgenre has also birthed a variety of sounds with Manolo rapping, Kelar Thrillz going indigenous, RepJ360 doing rock, Marizu being more soulful and Still Shadey with UK Hip Hop.
Gospel afrobeats artists like Angeloh, Greatman Takit and Tobi Toun are now taking to popular social media like TikTok and Twitter to promote their music as the algorithm also works in their favor to reach their preferred target audience.
The necessity of the sound cannot be over emphasized especially for members of the Christian community. These songs provide "believers" with the "energy" they need to celebrate at functions while celebrating their faith and respecting it at the same time.
With more artists springing up to embrace the essence of creating gospel afrobeats for the Christian community, we hope to see more afro-gospel festivals, structures and franchises in place in the years to come.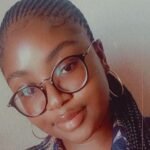 Grace's favourite thing to do is finding new music and writing about it. As a house mouse, the only fun thing you'd find grace doing is watching a new tv show or bingeing anime.