Experiencing Ladipoe's storytelling and expressive writing skills is something that every person should tap into. Making his big debut as a MAVIN Records signee in 2018 with 'TAP (Talk About Poe)', Ladipoe still remains the rapper with sweet vibes and the voice of poetic romance in Nigeria. 
His musical dexterity and ability to flow into any genre effortlessly should be studied. Examining his entire discography, we have picked out 5 records by the Yórùbá Samurai on which we believe he wore his perfect beast mode on the beats.
Know You – ft. Simi
As one of Ladipoe's hit songs, 'Know You' was everyone's go-to hint for their crush. The engaging chorus and even the music video will have you cheesing uncontrollably. But don't get things twisted; you're still single. 
Savage – Show Dem Camp ft. Ladipoe
His long standing relationship with SDC especially on their Palmwine series is something we love to witness. Out of the "Clone Wars Vol IV: These Buhari Times" album, "Savage" is  a crash course on who Ladipoe is, his position in the Nigerian rap scene and how he's here to dominate. And from all indications, he wasn't wrong. 
Feeling – ft. BNXN
This was one of the "loudest" songs out of 2021 and still manages to encapsulate Ladipoe's talent. If you don't know Ladipoe at all, you'll at least know this song. 
Love Essential ft. Amaare 
Arguably the most intense piece written by Ladipoe. This song explores love and all its discrepancies and honestly, if you're not loving like Ladipoe on this record, you shouldn't be loving at all. 
Running – ft. Fireboy 
In reminiscence of how far both artists have come in their careers, "Running" finds a way to motivate creative people to keep going, even especially when they do not feel like stepping on the gas anymore. 
They say hip-hop in Nigeria might be dying, but with the type of talent Poe is coming to us with, it's only just coming alive; but you knew that.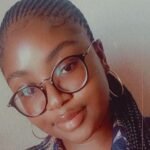 Grace's favourite thing to do is finding new music and writing about it. As a house mouse, the only fun thing you'd find grace doing is watching a new tv show or bingeing anime.