The journey became even more real with Sarz. Lojay has always been about the music, but in 2021 after much work on his vocal dexterity and intense study of what the industry would require of him, Sarz and Lekan Osifeso (real name) dropped a joint EP 'LV N ATTN' which even beyond having a Wizkid feature, went ahead to do international magic with "Monalisa" which later featured Chris Brown on its remix.
Ever since, with features, live performances and originals, Lojay hasn't stopped thrilling the world. His latest EP project, 'Gangster Romantic' has music lovers relating to its every song and building even more amazement for the artist.
Raised in Ikorodu to amazing parents who influenced his love for music and his drive to hustle, Lojay is looking to take Afrobeats to a much better space. He believes as a culture, it is only just getting started.
"Personally, I feel Afrobeats as a whole is still in the stage of hype. I feel my generation of artists are the people who are going to take it to the point where it is a fully respectable genre."
The singer, songwriter and producer spent some time with us to share some never-been-heard stories about his new EP, his plans for Canada, and his hopes for the future.
How would you describe Lojay to people who don't really know you?
I'm a goofball for the most part. I'm a passionate musician. I'm a singer, songwriter and producer. I am big on moving Afro Fusion as a genre to a more respectable space.
What do you mean by respectable space?
I just want it to be better. I want it to be viewed as better. It is in a very good space – in a much better space than it was five or ten years ago – but there's still so much more. Personally, I feel Afrobeats as a whole is still in the stage of hype and some people are still even just getting on board. For the most part, it's not "there" yet. And I feel my generation of artists are the people who are going to take it to the point where it's a fully respectable genre. 
Because right now, there's just a lot going on. It's not like 'oh, Afrobeats is so big, let's go to Nigeria and build the Afrobeats industry' per se. Most of the things I've been seeing have been just, 'oh, let's get a few of the good ones and bring them to America, and let them do music from here.'
What was your childhood like? Did the way you grew up influence your style of music in any way?
Um, yes, kind of. I grew up in Ikorodu Lagos. It is not the smoothest area but in all of the roughness, I'm very lucky to have had the kind of parents I had that sheltered me from all of the troubles and problems of Ikorodu as a whole. I've always been an introverted child, very shy, very in my emotions and feelings. And I've always been one to speak to myself a lot. So I guess that's where the whole idea of channeling myself into music started growing. 
My mom is also a pastor, so she played a lot of Christian music in the house. Almost literally every day, you wake up to something playing somewhere. Outside secular music, she also had very good taste in the type of music she wanted me to listen to.
Whitney Houston, a bit of Michael Jackson, though she wasn't the biggest fan. I kind of got introduced to Michael Jackson through my family watching Michael Jackson. She just had music playing around and unconsciously I started to fall in love with it. In church, I would find myself going to the closest seat I could find to the drummer. That was where I wanted to be. So I would always just sit down, watching the drummer play drums and that was where the birth of music came in. At some point, I picked up the drumsticks and I started playing.
When you started playing drums, did you join the choir? Or did you just do it for fun?
Yeah, I joined the choir. And it was perfect timing because probably a couple of months into me just starting to play drums, my mom was moved to like a parish of her own. So basically, I had to help set up the whole church. There were 10 to 15 people in the church at best. I started playing drums there frequently. It gave me the space to actually play the drum and I did that till I was about 16. 
Was your dad a big music guy at all? Or did his taste in music not appeal to you? 
No, he wasn't. He listens to Fuji music, but he's more of a pragmatic, logical thinker. He's not a creative guy, he doesn't care for music, he doesn't care for art, he doesn't really care for nature. He just wants to hustle. But it's good though. Because I feel like my mentality, the mentality I use to approach life mostly comes from him. Just this – dogged, go for it, make sure that whatever you do, you do it to the best of your ability – mentality. He is a workaholic. 
I've watched him since I was a child growing up. I basically saw his 'come up' and idolized him in a way. I just always felt like yeah, I want to do that. I want to because he left his father's house and went out to do his own thing against the will of his father and ended up doing something good for himself. So I've unconsciously followed the same path in my life. 
Many musicians have alter egos. Would you say you're the same person when you make music/perform? 
What's interesting is I wouldn't call it an alter ego, I would just call it being in a flow state. I'm the same person. Lojay is the same person as Lekan. I never wanted to create a new person and say oh yeah, this now who I am as an artist. I don't believe in that. I believe in people knowing me for who I am and falling in love with me for who I am. And if you don't love me, thank you, God bless you, I'm cool with that. But I don't want to change and I've never tried to change to be anything. 
Luckily for me, also, I feel I have an interesting personality of its own where I don't really need to change, I just need to be myself. It's just me. But then when I'm performing or when I'm recording music or around music, I can enter a flow state where it's just like, I'm still the same person, but it's almost like an out-of-body feeling. My body is just on autopilot.
So you've said LV N ATTN was inspired by your past lovers and exes. What inspired Gangster Romantic?
I would say LV N ATTN was inspired by my past love and I was still yearning for it in a way. Gangster Romantic is inspired by everything that happened post-love and attention and this new phase of who I am in the context of relationships and stuff like that now. I've become a new person, I've entered a new life. How that affected my relationships – I'm just telling the stories of that. And this time, instead of yearning, I'm in a state of acceptance. It's just like, you know what? Cool. That's like the growth from 'LV N ATTN Lojay' to 'Gangster Romantic Lojay.' Things happened, I kind of sort of blew up and it's still the same. Relationship life is still like chaos, but this time it's like Oh well, cool. We're good.
What was the hardest song to make on your latest EP "Gangster Romantic" and why?
Definitely has to be Canada.
Why?
It took so long to make for so many reasons. I first made Canada in December 2021. I made it in Ghana then I went back to Lagos and I touched it up. For some reason, it just didn't feel finished. So I sent it back to Maphorisa, and he touched it up. He changed what currently sounds like a guitar. We just kept changing the beat, changing the song, and changing things. After everything, it still felt like it wasn't complete. My team suggested we should add a feature. 
I had ideas for the feature but I wanted to feature somebody in the South African  market. Somebody that I feel can bring in that SA Amapiano element. I mean, Maphorisa was already on the song so it just only made sense and I sent it out to two people but ended up sticking with only one because I just didn't want the song to be too long. It was already long with this one feature. 
The second person was Costa Titch. RIP Costa Titch. He also dropped an amazing verse on it.
What inspired you to use "Canada" in that song and to even name it that?
I have actually never visited Canada before. Well, the day before I made Canada, I went out and I was talking to someone. She didn't give me a place that she wanted to go, but she just kept saying, 'Mehn I want to leave Ghana, I want to leave Ghana.' I was in Ghana at the time. She probably spent a good 15 to 20 minutes just talking about how she wanted to japa. I guess that's what I subconsciously put into my head. When I was making the song, that was what popped into my mind, and it sounded so good so I stuck with it.
Is there a Canadian artist you would like to collaborate with?
Canada has amazing artists – The Weekend, Drake, Justin Bieber, and I'm even mentioning just the global ones. But there are definitely a lot of Canadian artists I would love to work with. The first three I just mentioned, I definitely want to work with each of them.
Can we expect Lojay in Canada anytime soon?
Yes, actually. I'm definitely in Canada this Summer.
Would it be a concert or are you just coming to visit?
More than one show, that I know for a fact. 
Do you have any African-Canadian artists that you look forward to collaborating with when you come?
Tome is a good friend of mine. I really like her music and I like her voice. She's one person that I'm keen to work with and see Canada from her eyes.
What's the most hilarious thing people don't know about you?
Jesus Christ. I don't know but apparently, a lot of people don't know that I draw. I feel like I've said it maybe two or three times but I haven't said it to everybody. I mean, it's not like something I tweeted or anything. But a lot of people don't know. 
Do you collaborate with a lot of people when you're writing songs or do you write in isolation? 
Yeah, most of the time in isolation.
How often do you go outside of Nigeria making music?
I'm constantly making music. I have a small system I travel with so I make music everywhere I am. MOTO, for example. I started making the beat for MOTO in an airport in Switzerland. I had an 18-hour layover. I just started cooking up a beat and thinking through the idea of what I would want the song to feel like. By the time I got to Malta which was where I was headed, I brought out the system and I just started recording in a hotel.
Do you produce most of your own songs? 
I don't produce all my songs. I really like to work with a producer so the person can give me a different angle to look at things from. But sometimes I can be a producer's worst nightmare because I'm the type of artist that will touch everything. I know what I want the snare to sound like, I know what I want the guitars to sound like, I know what I want the kick to sound like. So I pick people's productions apart and put my own elements into them once in a while. That's about it. Outside that, I don't really like to produce myself.
When all is said and done, what kind of legacy would you want to leave behind? 
One filled with quality rather than quantity. I want to be remembered for far more than music.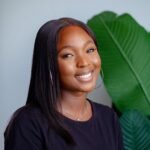 Ediri is a multidisciplinary creative who enjoys storytelling through various mediums. She is passionate about writing, photography, and music. When she's not at school, you will find her creating content for her blog, dancing, or reading an African novel