In the ever-evolving landscape of the music industry, a select few artists manage to captivate our heads with their unparalleled talent, distinctive style, and magnetic presence. Amongst these exceptional talents, we find Jamaican-raised, Toronto-based artist, King Cruff.
Born Solomon Marley-Spence, King Cruff hails from a lineage of extraordinarily gifted individuals who have profoundly shaped both his life and career. His roots trace back to the legendary Bob Marley, his grandfather, whose influence on him transcends the realm of music. Reflecting on his journey, King Cruff shares, "In my own journey? Well, I always tell people that I feel like Bob Marley inspired me more as a person than a musician." This sentiment underscores the profound impact of his family heritage.
King Cruff's artistry is nothing short of astonishing as he masterfully blends elements of hip-hop with the rich tapestry of Jamaican instrumentation. It's a revelation of talent that runs deep, and his unwavering commitment to honing his craft has garnered him significant recognition within the industry. 
In 2022, he clinched the prestigious Forest City London Music Award for Best Hip-Hop Artist, a testament to his dedication.
His latest single, "SHEDOENEED," offers a glimpse into his collaborative prowess. King Cruff teamed up with longtime friend Jag.Huligin and the renowned Ghanaian musician Stonebwoy, resulting in a musical synergy that will have you dancing for days on end.
Having recently signed with Universal Music Canada in collaboration with Tuff Gong, King Cruff's career is soaring to new heights. He is leaving an indelible mark on the Canadian music scene while transcending borders. 
In an exclusive interview with Ediri Obor, we delve into the enchanting story behind his latest single, "SHEDOENEED." 
Additionally, King Cruff invites us into his world, sharing his experiences of artistic growth in Canada, his deep connections within the Jamaican community in Toronto, and his aspirations for future projects.
As he candidly puts it, "My goal isn't to be the biggest or the most well-known Jamaican person in Toronto, you know what I mean. I just want to contribute to it." 
King Cruff's journey is one of both personal and musical evolution, and his contributions are destined to resonate far beyond the boundaries of any single city.
For those who are not very familiar with you/listening to you, can you tell them a little about yourself?
Well, I'm Solomon Marley-Spence, aka King Cruff. I was born in London, Ontario, and I grew up in Kingston, Jamaica for most of my life until I moved back to London, Ontario when I was about 17 years old. So Jamaica is very much what I consider home, but Canada has become my second home and in being up here and doing all of these types of things, I kind of felt like it's important for me to contribute to the culture of Canada by introducing it to some of what Jamaican culture has to offer. You know what I mean? Even though it's not such a big influence on it, I still feel like I have to play my part.
You've been signed to Universal Music Group in Collaboration with Tuff Gong for about a year now, how has that experience been for you as an artist?
The only word I can think to use is life-changing, man, you know. I spent so much of my life committed to music and doing a lot of things from the ground up. And now, this opportunity came through and it changed everything man. It showed me that there are really levels to this. You can't play at the same level all your career and not expect to stay the same. So it's just been a blessing. It's been an honor. Absolutely love it. The team that I've been given is so committed to the cause. And it's just given me a new appreciation for music all around.
"Well, I always tell people that I feel like Bob Marley inspired me more as a person than a musician, you know. It was always just about the type of person.
Your latest single, SHEDOENEED, features Stonebwoy and Jag.Huligin. How did collaborating with both artists come about?
So the song was first recorded in November and has been in the vault since then. It first came about in a little camp that we were doing here in the Universal building, or my eighty-eight Studios, where we just had a bunch of people together. Jag was there from the very beginning, he contributed a lot to it. Jag is also one of my best friends and one of my close collaborators. So it feels really good to be able to come up with a song with such potential with one of my best friends. And then later on, I don't know who, what, when, or how, but Stonebwoy caught wind of the sound. And Stonebwoy was like 'yeah, I like this'. And he was just so humble and so genuine and so nice. Stonebwoy is one of the nicest musicians I've ever met in my life. He came in, he gave us a verse, and we met up here in Toronto when he was doing his little circuit. It was great. Great, honestly. Amazing.
The video to SHEDOENEED also just dropped and some parts of it were shot in Jamaica. What inspired the decision to include Jamaica as one of the locations? 
I feel like almost all of it was done in Jamaica, to be honest with you. There's a couple of shots like the CN Tower is very obviously in the shot you know, I mean, so that was done. But the majority of the video was done in Jamaica on certain spots like Bob Marley Beach was stopped by jungles, which is a venue in in Jamaica where we're doing that performance scene. Love jungles. Honestly, I feel like one day my A&R, Ivan,  just leaned to me and he was like, 'hey, you want to do this in Jamaica?' And I was like, 'yeah' and then I was there's no more conversation. It was very simple. We just felt like that was what the vibe needed visually. You know what I mean?
Who are some Canadian artists you listen to and enjoy their music?
There's obvious ones, you know – The weekend, Daniel Caesar et al. I feel like someone who I rock with heavy in Canada is Havaya Mighty. She's from Claremont. I can shout out musicians from Toronto all day. Since I've come here, I've met the community Altair and I've grown very close to them. 
The Jamaican community in Toronto is very established. How involved are you with the Jamaican community?
I feel like I'm becoming more and more involved in it. Our goal isn't to be like the biggest or the most known Jamaican person in Toronto. I mean, I just want to be able to contribute to it. There's this group called Uncle Delray, who's doing their thing in Toronto right now, very influenced by Jamaican culture and it's just a wicked vibe. So getting to know more of how they work and building that relationship with them has been a blessing. So yeah, we're building the connection slowly.
What has it been like growing as a musician in Canada?
Every artist just wants to wake up tomorrow and be the biggest name on earth, but I look back on the journey. I feel like moving from Jamaica to Canada has been perfect. It's been baby steps. It's been stepping stones. It's been exactly how it's supposed to be. It's been me learning how to read music on my own for eight years, and then finally getting a deal. And going on to that next level. It's been like, like an incubator, you know, where I've just had that ability to build my talent and build my skills and know how to be a perfect performer. So that when King Cruff becomes a more international act, you'll be ready.
You won the Forest City London Music Award for best hip-hop artist in 2022. What did that recognition mean to you? 
It meant a lot. Because to be honest with you that year, I didn't think I was going to win. And the reason is because they had nominated me two years before and I didn't win. One of my patrons Mr. Bridges was actually nominated as well.
So when they called my name, it was like a very important moment. I kind of regard it as a very strong full stop in my musical journey in London, because that happened at a time where people hadn't known I was signed yet. And I was starting to come on to Toronto more. And I feel like that was kind of like a signal to be like, 'yo, you received this award because you contributed to the community out in London. Now you need to be ready to take on the next steps.' But that's kind of like what that meant. For me.
Your grandfather's impact and legacy through his music is eternal. In what ways does that inspire you in your journey?
Well, I always tell people that I feel like Bob Marley inspired me more as a person than a musician, you know. I mean, I was doing rap music way before I even started dabbling with reggae music. It was always just about the type of person he was, you know. He wasn't afraid to speak his mind.
He wasn't afraid to be the disturbance and I always thought that it's what people need – someone who's willing to shake up things and put themselves on the front line and be like, 'this is what I believe in'. So outside of the amazing legacy that he left behind musically, I think when you look at Bob Marley – the man, the myth, the legend – you can learn a lot from that.
What next can we expect from you? Anything exciting you are working on at the moment?
I'm always trying to be in the studio and make sure the next song is better than the last. The next single, hopefully, gets a little bit closer to home. It will be a bit more in touch with the roots.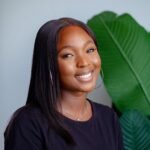 Ediri is a multidisciplinary creative who enjoys storytelling through various mediums. She is passionate about writing, photography, and music. When she's not at school, you will find her creating content for her blog, dancing, or reading an African novel