Don't you just hate when a raving film or show is released in Nigeria or other parts of Africa but you can't access it in Canada? It is undeniable that African film productions have been leveling up and we are so here for it. A perfect example is the recent film by Kunle Afolayan, Aníkúlápó, released on Netflix at the end of September. We can debate the storyline for hours but what is certainly praiseworthy is the overall production quality. From the cinematography, to set design, to casting and to the performances. 
We're thankful for the "Aki and PawPaw" era of films because of the laughs and memes they provided us but with respect to telling African stories and doing it well, our industries are in a great place. Hollywood producing historical epic films set in parts of Africa are very much appreciated but no one will showcase your own culture better than you will. A perfect illustration is how our accents are misplaced nine out of ten times. Which is why we're excited that more streaming platforms are partnering with film studios in Africa. 
Right into it, here are African movies you want to watch in November!
Elesin Oba: The King's Horseman
The Alaafin of Oyo had just died and his horseman, the Elesin Oba, was supposed to perform ritual suicide to join him in the afterlife. Things take a turn when the Elesin, played by Odunlade Adekola, is distracted by his sexual desires and the British rulers at the time interfere. Elesin Oba is another historical epic film produced by EbonyLife Films. The original story is a stage play written by Wole Soyinka and was adapted to a screenplay by Biyi Bandele. 
It is based on a true story and is set in Oyo state. The film had its world premiere at the recent Toronto International Film Festival and is set to be released on Netflix November 4th. It has a rating of 9.6 on IMDB so far and promises to be a great watch.
Blood & Water Season 3
Are you into drama shows? If you are, then you will love Blood & Water. You have some catching up to do because the first two seasons are hot! It is a South African show that tells the story of a teenage highschool girl on a mission to prove a popular swimmer in her school is her sister. This "sister" was supposedly kidnapped at birth and there are so many family secrets to uncover. The show has been nominated for multiple awards in South Africa and has won some in the areas of scriptwriting, cinematography, sound design and Best TV Drama. The new season will be released November 25th. 
While you wait for these to drop, is there anything else we should be watching? We would love to know.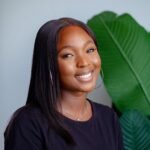 Ediri is a multidisciplinary creative who enjoys storytelling through various mediums. She is passionate about writing, photography, and music. When she's not at school, you will find her creating content for her blog, dancing, or reading an African novel