Sarah Oboh, popularly known as Dope Caesar, is the perfect description of what it means to be tenacious. Having grown up with an artist as a father, and being in some way, immersed in an early music background, it doesn't come as a surprise that she eventually followed the music line. 
From an early age, she took interest in learning chord progressions on songs, which happened through continuous learning from online videos, and practicing with a 'small entry-level controller' owned by her father, until she was excellent at it.
Although she didn't foresee becoming a full-time DJ and eventually one of the renowned Disc Jockeys in Nigeria, fate had other options for her. 
Dope Caesar regularly made short videos of her mixing different songs and uploaded them on her social media pages. Through this, she gradually grew her audience and got gigs that gave her access to other artists, DJs, and made her some money. 
She had a way of stripping old sounds and turning them into new tunes. Her walk to fame started when she enrolled in a DJ contest and emerged fourth. This gained her entry into a training academy, where she grew her skill and became better at her craft.
On one of her sets at DJ Obi's "Obi's House" event in Lagos, she cooked up one of the smoothest transitions ever that set the internet on fire. This transition from Brick and Lace's 'Love is Wicked' to Vict0ny & Tempoe's 'Soweto' drew the attention of music stakeholders and had her name on the lips of everyone. It also earned her a following on social media from ½ of Brick and Lace, Nyanda Thourborne. 
As a result, her social media pages grew exponentially, and she became an easy fit for any topic that had to do with categorizing the best DJs in Nigeria. 
Dope Caesar has participated actively in training females interested in gaining similar skills. One of her latest works was at The Sound Lab workshop organized by Femme Africa – a renowned female driven organization that caters to the development of women and girls across walks of life. 
Sarah Oboh continues to fit perfectly into her alias, Dope Caesar, through her fashion style, her unique skill showing her range with different song transitions, and how she does it all, without breaking a sweat. She is indeed super talented and continues to put herself in public view everyday by showcasing this talent.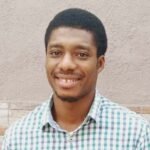 Chukwuebuka Mgbemena is a writer focused on the Nigerian & African entertainment industry. He loves fashion, art and is a staunch chess player.