Adekunle Gold's music trajectory is one that is not only unique, but has experienced continuous growth year after year. His musical career is likened to the cliché caterpillar who continues to shed its skin till it becomes a butterfly, and this is what Adekunle Almoruf Kosoko, popularly known as Adekunle Gold, AG Baby, and in recent times, Tio Tequila, brings to us in his new project titled 'Tequila Ever After'.
In 2017 under YBNL – the record label owned by one of the leading Afrobeats superstars, Olamidé, Adekunle Gold released his debut album 'Gold'. To most people, this was a typical move for every artist who wanted to stamp their presence in the Nigerian music industry, but to him, this led to the laying of a proper musical foundation that will eventually see him dine with the best music stars in the world.
In 2018, he followed up with a sophomore album titled 'About 30', which was expected to strengthen the exploits made by his debut album. The 'Afro pop vol 1' album in 2020 was his way of announcing the genre of music he wanted to be known for.
This album featured viral tracks like 'Okay' and 'Something different'. At this point, Adekunle Gold's music continued to take a beautiful incline upwards and he seemed to be on the right track in his musical journey.
He was ready to go all in, and in the early part of 2022, he released his fourth studio album, 'Catch Me If You Can'. This was a clear announcement to the public, almost like a brag, and a cautious statement of how far he had come in his musical journey. And with the full realization of where he was at that point, the album title made more sense.
The album had songs like 'High' with Davido, 'Sinner' with. Lucky Daye, amongst others. At this point, most listeners who hadn't been inclined to listen to him, started playing catch up, which of course, he earlier instructed them to do, from the title of the album.
Adekunle Gold finally had the public where he needed it to be, but not where he wanted to be, on a personal level. He felt there was more that needed to be shown, and in March 2023, he released Party No Dey Stop with Zinoleesky, the lead single to his most anticipated album, 'Tequila Ever After'. This song went viral across social media and topped music charts.
Still in the mood to give his audience a taste of what they were to expect in his forthcoming album, he released a three-pack single titled 'Tio Tequila', which featured three amazing songs, Omo Eko, Do You Mind alongside the previously released single.
One of its lead singles, 'Ogaranya' has become a massive sensation on social media, with influencers and celebrities in the Nigerian entertainment industry as leading forces. One won't be wrong to term it an "anthem".
Tequila Ever After, the album, turned out to be everything he wanted, and the coming to fruition of the seed sown 6 years ago, with the release of his debut album. The album features some of the best artists in the world, like the super-talented Pharrell Williams, Nile Rodgers, Khalid, Coco Jones, Ami Faku, Habib Koite, Simi, Odumodublvck and Zinoleesky.
The album begins with Chasing Peace of Mind, where Adekunle Gold sings on the essence of peace of mind, and how it is a priority for him. He is joined by Habib Koite & Ami Faku, as they team up to render an amazing intro to the album.
Soro is an upbeat song produced by the award-winning "music bully", Kel-P. It is sung in English language with the chorus in Yoruba – the indigenous language of the artist, as he flirts with and tries to woo the fictional lady in the song.
On Wrong Person, Adekunle Gold makes a clear statement that he is focused on his grind and not one to cause trouble, but emphatically says in the same breath, that he is not the person to be messed around with. He features Odumodublvck, a Nigerian artist who wields the right amount of vocal intimidation, to create the perfect mental picture of what the song entails and to pass across the message effectively.
Make it Easy ft. Coco Jones is another interesting song off the album. The song begins with the sonorous voice of Coco Jones and is immediately backed with soothing vocals from the one and only Tio Tequila. The song has a beat that gets you in the mood for a good dance, and has a great replay value.
Simi-assisted Look What You Made Me Do is definitely a stand-out song on this project, as it embodies virtually everything needed to create the perfect song. It portrays the story of people who in hindsight, regret their actions. Mid-way into the song, the duo join voices to create a beautiful melody as they sing. It is indeed an amazing song an easy fan-favourite.
Come Back To Me features the American superstar, Khalid. The song is one that leaves the artist in a reflective state on how his actions led to losing his lover as he says and now pleads with the lover to come back so that they can make things work. Khalid adds his flawless vocals to the song and together, they create my favorite track off the album.
Adekunle Gold describes his life's journey on Falling Up. He describes how he continuously thrives, regardless of what happens – be it good or bad. At some point in the song, you hear choral back ups at intervals, which adds beauty to the song, alongside Pharrell Williams' super-sonic voice. Nile Rodgers also contributes to the song with an amazing production.
The project comes to an end with All My Life, taking up the space of a beautiful outro. The song has Adekunle Gold giving assurances to his lover and promising her to always be there.
Tequila Ever After is a beautiful album, with stories that touch important parts of Adekunle Gold's musical journey, life and persona. It was indeed worth the wait, and is an amazing body of work.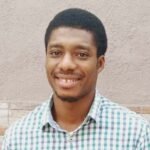 Chukwuebuka Mgbemena is a writer focused on the Nigerian & African entertainment industry. He loves fashion, art and is a staunch chess player.