Drill music took off in modern day Chicago and later spread to the UK, which has now become its hub. It grew so much that it went from being a mere genre to an Identity. This is evident in the style of dressing, diction and most importantly the beat and rhythm of drill songs. Some of the artists at the fore of drill music include Headie One, Tion Wayne, Central Cee, Aitch, Backroadgee, Unknown T, amongst others.
The Nigerian music industry has what is popularly referred to as "Afrobeats" as its main genre, even while retaining R&B, hip hop and other genres as supplementary with barely any drill artist in the loop.
This was the staple until we saw artists embrace the drill genre, fusing it with indigenous languages, slangs and accents. Some of the drill pioneers in Nigeria include Psycho YP, Odumodublvck, MOJO AF, Legendary Styles, Reeplay, Zilla Oaks, Eeskay, Tomi Obanure and a host of others.
To the Nigerian audience, it probably initially felt like these artists were noisemakers who derived joy in creating chaos-driven songs, while ensuring they featured their extended families in every music video. This thought process stifled the growth of drill music in Nigeria and reduced its acceptability.
In spite of this, drill artists refused to give up and continued to create more songs, EP and LP projects. Eventually, drill music in Nigeria started to gain an audience for various reasons such as collaborations between Nigerian drill artistes and mainstream faces, growth of UK drill, amongst other reasons.
At the moment, a Nigerian drill artist that has been on a roll is Odumodublvck. From the later part of 2022, his musical career grew exponentially and his hit single "Dog Eat Dog" became so viral, it reached the ears of the UK Grime king; Skepta.
Drill music in Nigeria has clearly become popular compared to its arrival. This is an excellent feat but there's still more work to be done, to increase its listenership. An effective means to make drill music become part of the top genres in Nigeria would be to look towards more collaboration with artists in other genres, while ensuring strategic publicity and distribution of their music; either through record labels or independently with the requisite support.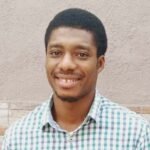 Chukwuebuka Mgbemena is a writer focused on the Nigerian & African entertainment industry. He loves fashion, art and is a staunch chess player.