One of the leading record labels in Nigeria, Chocolate City, has always been popular for housing the country's most celebrated rappers through the years. However, since earlier this year, they have revealed some new additions to their family who make pop music and other "softer" genres including ace producer/singer/songwriter Young Jonn, Noon Dave and most recently, Major AJ.
Major AJ easily has the outlook of an afrobeats superstar. With a special hairstyle, gold jewellry and a unique approach to his music, Ajogwu Boluwatife Vincent was definitely made to make music in Nigeria. He was unveiled with an extended play project titled 'Retroverse', a smooth blend of Afrobeats, disco and blues; garnished with elements that remind you of the early 2000's.
"I named the project 'Retroverse' because I feel like it is another world I created with a retro-infused vibe for afrobeat," he said in a tone that screamed "eureka!", like he was narrating how he invented the world's first time machine.
"'Afro Disco' was the first time I was linking up with Dunnie and I had always wanted to work with her. I had a recording camp and luckily, she came on the last day of the camp. And immediately she came, she told me she had started making a beat before she left her house and when she played it, the vibe just came in for the song."
Oladunni Lawal, or Dunnie, in her standing is known for how much creativity she pours into producing music. She wears the face of creative Nigerian women in the entertainment industry, owning spaces and changing narratives with their crafts. Nobody would have been a better fit to make songs on an EP that would make Nigerians dance in the moment, but reminisce on the amazing times of the past at the same time.
"The way I recorded it felt like I was putting the bricks together. That's why there's a lot of interpolation in the hook and it turned out to be a great record. All the songs on the project are great records," said Major AJ.
We talk to the rising superstar about his Chocolate City deal, growing up in Kainji, and the future of his music in this piece. It has been edited for length and clarity still.

If Major AJ was a subject in a secondary school, how would you describe yourself?

There's a lot to Major AJ but Major AJ is primarily a singer songwriter and rapper from Benue state. My late dad was from Benue and my mum from Oyo. My dad was in the military and that's where I got the "major" from and "AJ" is from my surname, Ajogwu. 
Did you get the name "Afro Disco" from Tony Allen's 1977 record?
Actually, that's not where I got mine from. But I have read about this record you're talking about. Basically, mine was just the hook of the song. 'Afro Disco' was the first song I recorded that gave us that "retro" direction. But I wanted to come out as an artist with something unique because as an artist, that's what makes you stand out. I was trying to get a project that came from my heart and was very intentional. So basically, 'Afro Disco' was the first song that we made in that direction and from there, every other thing just aligned. So, mine was just the music. It wasn't inspired by the Tony Allen record. But shout out to the OG's.
Why did you think that this particular project would be the perfect material to launch you into the music scene?

Afrobeats is so big right now and it's the biggest market in the world for me musically, and there's so much going on. There's so many musicians coming out everyday and there's a reason why the OG's are where they are at the moment. Everybody has something that makes them stand out. You have to be a genius with the music. You have the talent, but there's a lot of work that goes into the music. You have to go to the studio and spend a lot of sleepless nights to come up with what you can do to stand out. Everybody is taking music in their own direction in their own different ways. As I wanted to debut into the industry officially under Chocolate City, I wanted a project that could show that I'm not like everyone and I'm very different. People can understand that it's afrobeats, but it has a retro vibe and it's still very new.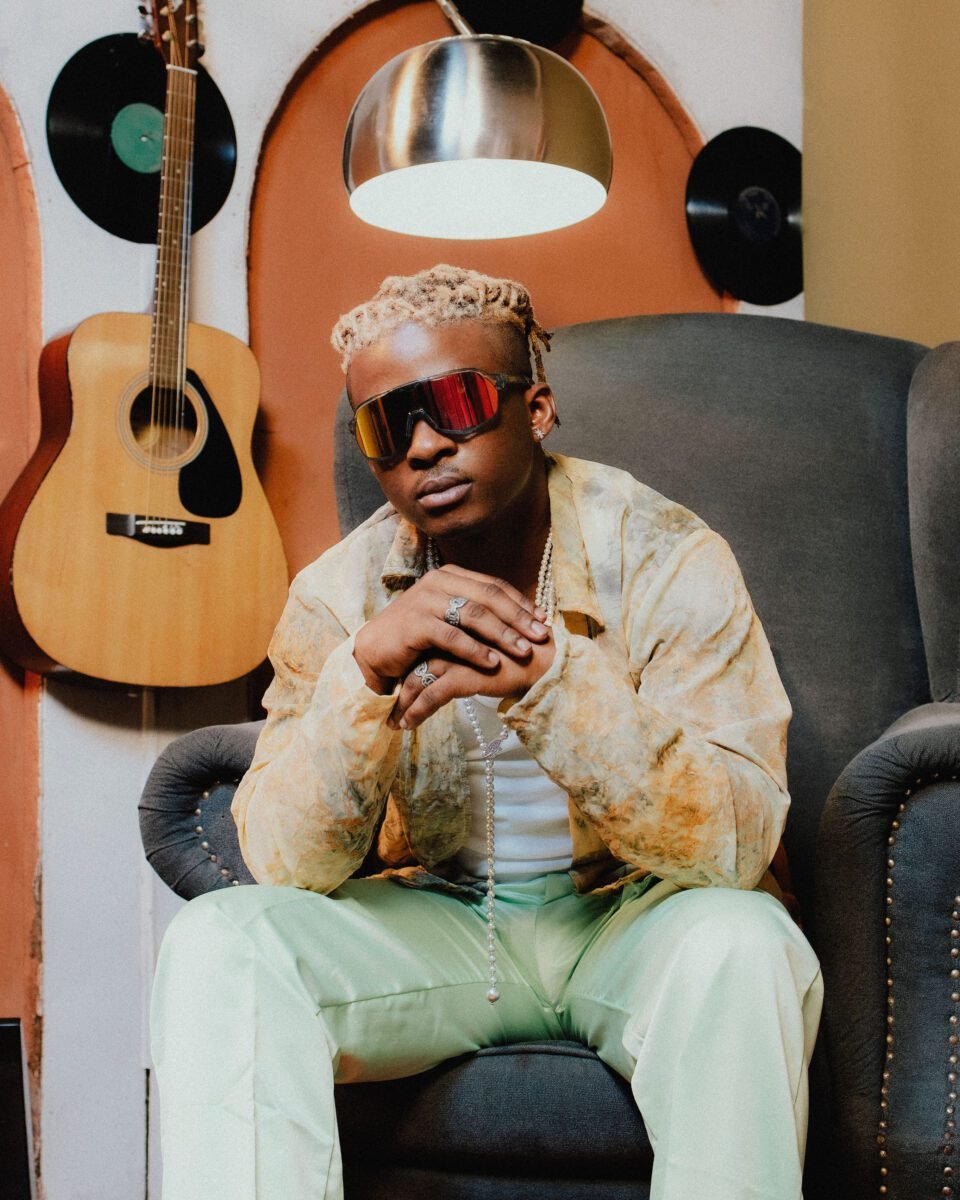 Did you have any music out before this EP? 
Yeah I did.This EP Is my debut release under the label but before now, I officially came into the industry in 2020 and that was when I moved to Lagos. 
Tell us about growing up.
I grew up in Kainji, Niger state. I used to just come to Lagos on holidays to see my aunty and go back. Then after secondary school, I went to the University of Ilorin and I was just pushing the music. Back then in school, I won a talent show. I used to jump on online covers and competitions and I've been grinding ever since.
Some songs on 'Retroverse' have sampled sounds. How well do you think these samples conveyed the messages you wanted them to?
There was one on 'Mr Lover' and it was all Dunnie. And when she created the sound, it was fully retro and already going in that direction. She didn't even know if I was going to like it, but I heard it and I was like 'yo I want this!' and I took the beat. So when I was recording 'Mr Lover' with my A&R, we came up with the "Olajumoke" part which is actually an old folklore that has also been sampled by Angelique Kidjo. 
How did the Choc City deal happen?
I actually didn't see it coming and it felt like a movie. I think 2 years back, I used to post freestyles online and I posted a video on twitter that got a lot of traction at the time and the CEO, Audu Maikori, had asked me to send the video to him. He liked it and reposted it. That was when I thought Choc City might have had interest in my music. But after I didn't hear from them, I didn't bother about them anymore. I think my song 'Salo' caught their attention and their A&R texted me, asking if I was signed. The rest is history.
Choc City is known for housing the major rap heads in the country. Do you feel any type of pressure to make the type of music that is popular with the label?
I definitely grew up listening to the OG Choc boys and big shout-out to them. I feel like right now, there's a fresh era of Chocolate City, and afrobeats is our identity. Yes rap is still a part of our culture because I myself used to rap with the stage name Ice Kid; way before I became Major AJ. Basically, I do not feel any pressure to create anything similar because I have creative freedom. From just listening to 'Retroverse', I am sure you can already tell that I have creative freedom over here.
Where do you see yourself in the coming years?
Honestly, God is the one piloting everything so I can't say precisely. But the music is the most important thing before anything else. I really love music, that's why I do it. In the coming years, I want to reach a wider audience and shut down the Madison Square Garden, the O2, and also take Afrobeat to the next level. I want to make Africa and Nigeria really proud.
Itty can be caught studying African pop culture, writing about it or hosting a relationship podcast. When he's not doing any of these, then he's definitely at a bar, getting mocktail.