Distance in space doesn't always imply distance at heart and these Nigerian-Canadian fashion designers illustrate the true meaning of sticking to one's cultural identity. These names stand internationally, but are filled with the local distinctiveness of what it means to be away from home, but be at home at the same time. The following Nigerian-Canadian owned brands should be patronized and recognized, especially by other black people in diaspora and at home.
Bola Adesiyan – Queenfecy Clothing 
"Adhering to any repetitive demands of modern day fashion" is definitely not a way to describe Bola Adesiyan's style. Combining culture and chic is the most important epitome of Bola's art pieces. With pieces ranging between $50-$1000, Queenfecy Clothing focuses on exhibiting Bola's yoruba culture with the use of vibrant African prints and accessories, made with fabric like kente and ankara.
Dumebi Iyamah – Andrea Iyamah
Known for specializing in custom couture, ready to wear and retro swimwear, Andrea Iyamah by Dumebi Iyamah was birthed when the designer was 17 and ever since, she has created pieces for well known celebrities like Michelle Obama, Issa Rae, Gabrielle Union and Ciara. Her work has been recognized by major fashion inclined  press houses like Vogue, Elle and Essence. With a portfolio as big as her bag, Dumebi also creates bridal pieces asides the retro swimwear and leisure outfits she is known for.
Abiola Adeneye – Biola Brentwood Fashion
Creating ready-to-wear pieces made with the popular tie-dye materials – popularly called as adire in Nigeria – and other effervescent African patterns is Biola Brentwood's thing. Their pieces are a sight for sore eyes and Paris Fashion Week definitely agrees. The Toronto-based designer has pushed Nigerian creations to international audiences in more ways than one. From African Fashion Week Toronto (2021) to Paris Fashion Week (2023), Biola Brentwood Fashion is only beginning its journey to global recognition as there is so much that we are yet to experience.
Ladipo Mary – Hanupor Apparel 
This Calgary-based designer creates prominently African attires from Iro & Buba, to a two-piece suit made with Ankara. Hanupor apparel is a one stop shop for bridal pieces and predominantly African pieces for anyone in Calgary, Canada.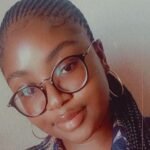 Grace's favourite thing to do is finding new music and writing about it. As a house mouse, the only fun thing you'd find grace doing is watching a new tv show or bingeing anime.