We put together a list of Millennials creating magic and doing spectacular things across various industries.
In the second series of "Founders Spotlight", we Spotlight 21 young people to look out for this year. They are Millennials doing amazing stuff and basically putting Naija on the map!
Digimillennials presents Founders Spotlight 2021. Who do you recognize, who are your heroes? Celebrate them.
Shola Akinlade and Ezra Olubi
Shola Akinlade and Ezra Olubi, The founders of Paystack both hold a B.SC in computer science from Babcock University.
They both have years of experience in developing result-oriented applications across the web, desktop and mobile platforms.
The duo started the company Paystack; an online payment system in Nigeria. Since 2015 when Paystack was founded, it has grown to processing over 15% of online transactions in Nigeria.
In October 2020, one of the leading online payment system in the world Stripe acquired Paystack for $200 million.
we are definitely on the look out for what the tech bros are up to in 2021. Fingers crossed.
Joycee Awosika is an entrepreneur, speaker and a structure & processes expert. She is a the founder of Oriki Group. ORIKI is a leading farm to skin and spa brand that has been a part of the development of 6 spas in 4.5 years, reached thousands of consumers around the world through its product range and through the spa situated in Lagos, Nigeria.
She has worked with SME's and individuals to supply structure, systems and processes as well as Standard Operating Procedures Templates, Trainings & Workshops through my platform – SOAR.
She is passionate about helping people fulfill their purpose and helping businesses grow. Although, she is a mother of two but she isn't giving up on giving her best as a mother, entrepreneur, economist and of course, helping businesses grow.
Joycee has worn multiple hats and has managed to soar through them well. She is indeed a millennial to look up to and of course, one to expect ground-breaking achievements and moves in 2021.
Henrich Akomolafe is the CEO of Akotex Nigeria Limited, a company with a focus on the elevator and escalator industry, and subsidiaries in construction, real estates, energy, as well as robotics and artificial intelligence.
He was featured on Forbes Africa's 30 Under 30 List of exceptional young Africans in 2019 for his contribution to the development of Africa.
The young entrepreneur also won The Future Awards Africa prize for entrepreneur 2020.
We can,t wait to see what this buzzing young CEO has to unleash in 2021.
Jane Ebube Richard is a talented Efx makeup artist. Jane is versed with transforming a face to an entire new character. She has transformed herself to a number of celebrities like Tiwa Savage, Davido and the Late Chadwick Boseman with the use of makeup.
Jane's handwork broke the internet when a makeup imitation of Nigerian President, Muhammadu Buhari went viral. She started her Efx makeup out of boredom and a need to do something worthwhile. Her ability to pay attention to details has made it possible to initiate different characters.
Jane isn't giving up on her dreams, rather she is willing to have her studio where she can explore her works and train people. Jane is indeed a millennial to look out for in 2021.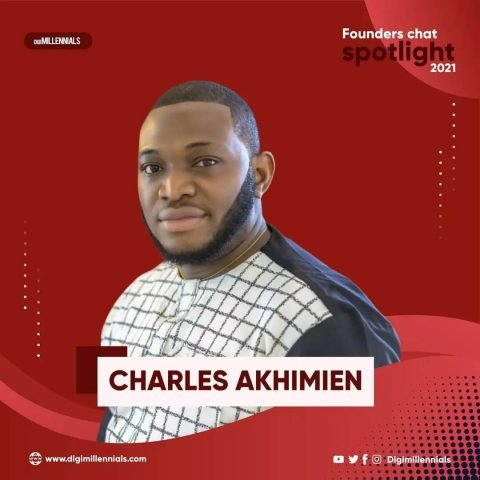 Dr Charles Immanuel Akhimien is a medical doctor and social entrepreneur. He is also the co-founder of MOBicure, a social enterprise providing mobile technology solutions in healthcare for Africa.
MOBicure's major product OMOMi app is providing pregnant women and mothers in Nigeria with life-saving maternal and child health care information. MOBicure also launched an app called MyPaddi earlier this year, and it is providing young people with anonymous access to accurate and non-judgmental sexual and reproductive health information.
Charles is a 2017 United Nations Global Compact SDG Pioneer, a One Young World Ambassador, and a 2016 Mandela Washington Fellow. He is also a 2017 Commonwealth Youth Award finalist, as well as a grant awardee of the U.S. African Development Foundation (USADF).
This young man has broken grounds in Nigeria and Africa, and we look forward to more groundbreaking achievements he is set for in 2021.
Bilikis Adebiyi is a Nigerian millennial who believes waste products could be recycled into treasures. She is the CEO of a Lagos-based recycling company, Wecyclers. Her desire to curb the inefficient mode of waste management in Nigeria inspired her to discover a more effective way of managing waste in Nigeria.
BIlikis has succeeded in using different initiatives in order to ensure that waste recycling in Lagos becomes possible. Her efforts have recognized by both local and international bodies.
Indeed, Bilikis is a go-getter and she is definitely not relenting come 2021.
Oshio Agabi is a neuroscientist who raised $30m and created a device called "Koniku". This device is an invention to detect the smell of explosives and cancer cells. The device "Koniku" is the first to fuse live neurons from mice stem cells into a silicon chip.
Agabi grew up in Surulere, Lagos, Nigeria and obtained a Bachelors degree in Physics from University of Lagos. He went on to further his studies in physics and neuroscience in Sweden and Switzerland.
We are Super proud of this Millennial, and we look forward to seeing him win more in the coming year.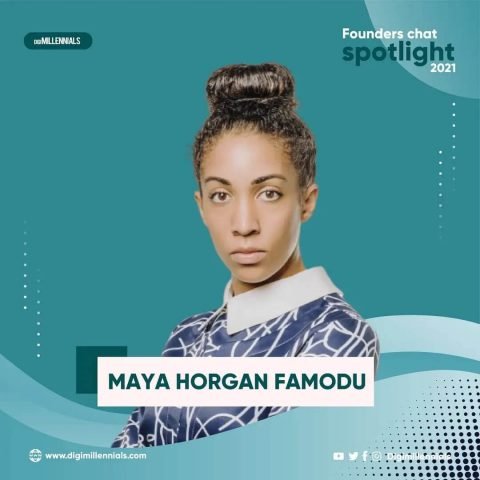 Maya Horgan Famodu is the founder of Ingressive, a firm that provides market entry, technology research and market operations services for firms and businesses expanding into Africa.
She is an entrepreneur and go-getter and has also appeared on the Forbes Africa 30 Under 30 in the technology and finance category.
Definitely one Millennial to look out for in the coming year.
Sharon Browne-Peter is a Communication specialist , filmmaker and the founder of a non-governmental organization, Cells of a Generation Initiative (COAGInitiative).
COAGInititiave is a NGO that seeks to advocate Sickle Cell anaemia and provide substantial information on how to live healthy with Sickle Cell.
Sharon has pulled through a number of programmes and initiatives for this cause and she recently showed the world her writing and creativity prowess when she wrote a comic book on sickle cell titled "Didi and the Bothersome Bully"
Sharon has honored a number of interviews and talkshow in respect to her chosen field and her NGO.
She is definitely a millennial to look out for in 2021.
Dr Ola Brown Orekunrin is a medical doctor, helicopter pilot and the founder of Naija flying doctor. Naija Flying Doctor is the first West Africa's air ambulance service.
Dr. Ola is saddled with the responsiblity of bringing trauma care to the most remote part of West Africa. She was prompted to dive into this line of service after her sister died while travelling due to the unavailability of medical air service in Nigeria.
She and her team mates are passionate about saving lives by providing timely access to advanced medical care. Naija flying Doctor has been recognized by both local and international media for their remarkable service to mankind.
Dr. Ola is indeed an inspiration to not just Nigerians but West Africans. And we are reassured that more great works will be initiated by her company in coming years.
Temie Giwa-Tunbosun is the founder of LifeBan; a business enterprise in Nigeria working to improve access to blood transfusions in the country.
LifeBank has succeeded in helping hospitals discover blood and other essential medical supplies and deliver to various hospitals in the right condition.
Temie Giwa-Tubosun of course knows the importance of having an effective blood bank and having seen the situation of medical practices in Nigeria, she decided to start up LifeBank.
Her business has helped safe a lot of lives and we appreciate their effort to keep many heroes alive. Temie Giwa-Tubosun is indeed a heroine and we anticipate more amazing services from her.
Konyinsola Osinubi is a PR professional, content creator and Vlogger.
He is a budding YouTuber whose focus is on Technology and gadgets.
He is one Content creator/ YouTuber we look out for in the coming years.
Abayomi Onasanya is the founder and CEO of Student Accommod8 Housing, a developer and operator of Purpose Built Student Accommodation (PBSA) in West Africa.
Having seen the struggles most Nigerian students face in getting an accommodation, Abayomi deemed it fit to provide an organization where Nigerian students can get accommodation without stress and with good room conditions.
Alongside his dreams to make Student Accomoda8 Africa's leading developer and operator of purpose-built students accommodation service, he has been able to provide both Nigerian and international students a conducive environment for living, which has aided in reaching their potentials.
Abayomi has indeed made remarkable prints in the minds of many Nigerian students and we anticipate his good works.
Tomisin Akinwunmi is an entrepreneur, product and graphic designer, content creator and founder of Lucid Lemon; a community that Spotlights dope contents and works from creatives.
Being a product and graphic designer, she is the brain behind so many dope contents created on Lucid Lemons and Only Atome.
We definitely can't wait to see what she's set to make out of the Lemons this coming year.
Novo Isioro is a visual communication strategist and a documentary photographer.
She was Nigeria's Presidential Documentary Photographer in the Office of the Vice President Yemi Osinbajo between 2015 and 2019. She was the first female to hold this position as she combined this with her role as Special Assistant on Visual Communication.
She is the founder of Anisza. Anisza is a foundation that educates young students about Nigerian history using arts and other visual elements, in addition to other tools. One of the major aims of Anisza is to serve as a cause for Peace and Unity in Nigeria while educating the youths.
Obi jacqueline is a creative and visual content creator. She is also a product photographer as well as brand influencer.
She is the founder of optics by jacqueline; a visual content brand, as well as the founder and content curator of Abuja leisure spots; a platform that serves as a guide for travelers and tourists in the city of Abuja and the owner of fashion brand, Neemjah.
Obi Jacqueline is doing wonders in the creative industry and we've got our fingers crossed on what's next on her sleeves for the coming year.
Olufunto is the Founder and CEO of Chanja Datti, a waste collection and recycling social enterprise. The company collects waste plastic and other recyclables like aluminum cans, papers, (gallons, broken chairs etc and transforms them into pellets, flakes or bales, which are then supplied to off-takers/recyclers for use in the manufacture of various products.
She has strategically allowed people key into her vision by providing cash in exchange for these wastes.
Alongside this role, she is also an Associate member of WIMBIZ (Women in Management, Business & Public Service), a Nigerian NGO, the lead coordinator for the Green Coalition of Abuja and is a celebrated speaker and mentor especially to girls and women.
Boluwa Olojo is a marketing and sales professional. She is also a business developer and strategist and business growth consultant.
Bolu is the co-founder and chief marketing officer of goadsafrica a startup that helps brands buy and track online and offline ads for the best prices in the market.
Goadsafrica is Nigeria's first hybrid AD network, and we are definitely rooting for all this young millennial and the brand are set to create in 2021.
Lucas Emeodi is a music mogul, A & R, talent manager and events promoter.
He is the founder and CEO of speed plug promotions, a brand that provides professional and high-quality representation for artists, deals in events promotions and music distribution.
He has a host of artists and projects he has created magic with, and we've got our fingers crossed on the magic him and his team speedplugpromotions are set to create in 2021.
Kanyinsola Alabi is a fitness enthusiast and coach. She is the convener of sweatboxlagos: A community gym in Lagos.
She is also the brain behind itskyfitness; a convener of fitness challenges in Nigeria.
The health and fitness industry is a Fast growing one in Nigeria, and we can't wait to see the magic this young millennial will create in 2021.
Tobi Mohammed is an entrepreneur, entertainment mogul and the brain behind the famous Mainland Block Party.
MBP is an event management company and gathering for people to network, party and have fun.
Mainland Block Party which started in Lagos Mainland is spreading fast to other cities and territories in Nigeria.
We've got our fingers crossed for the big moves alhaji popping and his team are up to in 2021
Millennials across Africa and in the diaspora have the same picture of what the world should look like. We are documenting it in the coolest ways 🤘