If you mentioned five Nigerian artists that have remained active in the last two decades and dropped hits after hits, Wande Coal would definitely be on that list. He has gone through an entire growth process by learning and working with some of the renowned artists and music producers in Nigeria. 
Wande Coal's musical career got a headstart after signing to Don Jazzy's Mo Hits Records in 2006. Since then, there has been an evolution in the quality of his music, personality and career.
In this article, you will fully understand Wande Coal's journey from start till present day, and we hope you enjoy it.
'Mushin 2 MoHits' era 
These were the early days of Oluwatobi Wande Ojosipe, popularly known as Wande Coal. The high-pitched voice was there, the flow on every beat was evident, and from time to time, he gave us bad-ass dance moves. 
If you lived in Lagos in 2009 and for some reason you didn't listen to Bumper To Bumper, the DJ at the party close to your house must have started his deck with "you bad, you want it", and if these eluded you, you must have in your "moral solidarity", cautioned a child to stop singing "Allow me to kiss your hand". 
These were songs off Wande Coal's debut album "MUSHIN 2 MOHITS", including Ten-Ten, Taboo, Who Born the Maga, amongst others. Regardless of who you were, there was a high chance you heard at least a track from this album, and this marked the beginning of Wande Coal's journey to stardom.
'Wanted' era 
Wande Coal continued his hits streak by working closely with local and international artists to deliver amazing songs to his audience. He had songs like Amorawa ft. Burna Boy, Same Shit ft. AKA, and 2013 bop — The Kick ft. Don Jazzy. 
Having left Mavin records in 2014, Wande Coal started his own record label "Black Diamond Entertainment", and in 2015, he released the "Wanted" album. It had viral songs like Ashimapeyin and Baby Hello — produced by the renowned music producer, Maleek Berry. This album, like his previous one, ushered Wande Coal into one of his finest artistic eras.
The battle of hits era
At this point, one would have sworn Wande Coal was running out of time on his rent payment. This was because, every time we heard his voice, we heard a new anthem which almost always went on to become a hit. In 2016, Wande Coal released "Iskaba" ft. DJ Tunez, produced by Spellz. This song was the tune for days! It was enjoyed by all and a clear indication that Wande Coal owned the season.
He released his famous single, "Ballerz" in 2017, and in subsequent years released Turkey-Nla, So Mi So, Gentility, amongst others. 
It is interesting to note that this era revived Wande Coal's dancing skills, as he was always found dishing out dance moves whenever he performed any song.
Legend or No Legend?
In 2020, Wande Coal started the year with the release of his new single, "Again". This song introduced fans to a slightly different side of Wande Coal, the part of him that had morphed into an experienced artist, which was evident in the quality and style of his music. 
Towards the end of the year, he released his anticipated EP, "Realms" and this made clear what seemed blurry in his earlier song release. It felt like the EP was an avenue to express himself in a way he desired, hoping his fans would see and understand his growth.
In 2021, Wande Coal proved he could be any kind of artist he wanted to be, when he shifted from his seemingly experimental side, to his default music style. He displayed this incredible talent in DJ Neptune's Music Messiah and subsequently in his hit single, Come My Way. He has since featured in several songs including Hate Me, Kenkele, Mama Maradona, and Olamide's latest single, Kpe Paso.
Wande Coal released his fourth studio album — Legend or No Legend on 18th May, 2023, which featured Wizkid, Olamide, T-pain and Fireboy DML. He is a brilliant artist who has earned legendary status in the Nigerian music industry and continues to validate this status with each music release.
In his words which have become facts, "Nobody be like Wande Coal".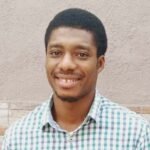 Chukwuebuka Mgbemena is a writer focused on the Nigerian & African entertainment industry. He loves fashion, art and is a staunch chess player.